News
Posted: 15/08/2018 08:20:48
Check out this link to download your own copy of the SIs -
Aspire Nationals SIs
Posted: 15/08/2018 08:15:48
HD Madness - Spinnaker Auction
Congratulations and thanks to Paul Dean from Wembley SC for his winning bid in this year's auction. He will be presented with his new sail at Lyme on Day 1 of the Aspire Nationals. Many thanks to Andy and Jim at HD Sails for their generosity and continued support of the Merlin fleet. Please give them your thanks when you see them and your custom if you can.

Posted: 03/08/2018 05:20:22

Check out this link for details of Andy and Jim's great offer of a brand new spinnaker with all proceeds going to support the Aspire 2018 MR Nationals.

Posted: 01/07/2018 12:10:30
Taxi & Alex win at Brightlingsea
Andy "Taxi" Davis & Alex Warren took the win at Brightlingsea after showing every one the way round on a glorious Saturday, Competition was very close right through the fleet.
Sunday was very much a drifter, full race report to follow.
Posted: 11/06/2018 10:23:29
Check out the draft SIs - just click on the title above.
Or visit the Champs site, Enter Page, Draft SI button
28 days left at Standard Entry Fee. 23 places available before we need a waiting list!
Posted: 02/06/2018 10:49:16
Mike & Jane Calvert win at Midland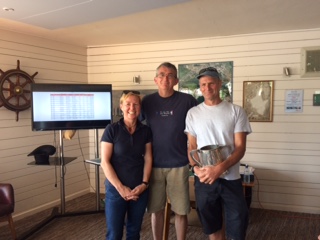 On a glouriously sunny day in Birmingham Mike & Jane Calvert showed everyone the way around a full Edgbaston reservoir in what were trying and shifty conditions in the light winds.
This event saw 5 teams achieve Midland Circuit qualification and Richard Dee & Nancy Gudgeon replace Steve & Gill Leney as leaders of the 2018 HD Sails Midland Circuit.
Posted: 21/05/2018 10:30:07
Team Leney lead the HD Sails Midland Circuit
Last years bridesmaids Steve & Gill Leney are currently leading the 2018 HD Sails Midland Circuit after three events.
This team have finished on the podium countless times in the last decade only landing the title once due to the dominance of Matt Biggs and his various crews.
This weekends sees the circuit visit Midland Sailing club will team Leney still be leading come Sunday tea time or will Chairman Chris sailing at his home club be grinning like a Cheshire cat?
Latest results in the results section.
Posted: 16/05/2018 10:23:19
Wall to wall sunshine in Wales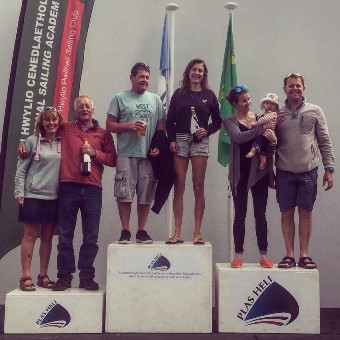 Another fantastic weekend sailing at Plas Heli Sailing Centre with winds varying from light to champagne conditions.. The racing was hard faught by the whole fleet.. Saturday dawned over cast with glimces of sunshine and three excellent run races. Matt Biggs and Becka won the first two races and Simon and Ally Potts were second. However in the last race Ally went to feed Nicole and so they did not sail. This race turned out to be quite bizarre having a 100 degree wind shift on the second beat dumping all those on the lefthand side of the beat and saw two boats flying their spinnakers in the last 200 yards to the windward mark. This race was led by Steve & Gill leney all the way to finish however confusion on the finish resulted in Matt taking the win.
Sunday produced a cloudless day (In Wales) and the fleet floundered out to the committee boat just expecting to return to shore through lack of wind. However, it filled in and it was champagne sailing conditions in glorious sunshine. This time Simon and Ally stamped their authority on the fleet with two comfortable wins.
Plas Heli layed on a supper on Saturday night and even kept the bar open late. We must have a reputation. We all had a great time. A big thank you to all involved and the club
!st Matt Biggs & Becka Jones
2nd Simon & Ally Potts
3rd Steve & Gill Leney
Posted: 14/05/2018 09:16:26
23 Boats brave the east coast Aldeburgh ST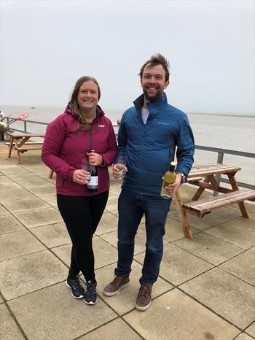 There is literally nothing more refreshing than a weekend on the East Coast in a Northerly breeze and rain that varies between not very heavy, heavy and very occasionally not raining at all. Enticed by the bracing Siberian breeze and the beautiful brown water and sky, 24 boats hit the A12 with excitement, arriving to a warm welcome from the President of Aldeburgh Yacht Club, a club with no Merlin Rockets, but one that really likes having them to visit every now and then.
Race officer, Patrick Gifford gave a slightly less bamboozling briefing than in previous years, and everyone launched into the beautiful River Alde for one round the cans race followed by an intended two windward-leewards.
The start-line for race one was exemplary, the benefits of starting at the favoured port end being exactly outweighed (as it transpired) by the western shore being tidally favourable. So it was that Duncan and Harriet Salmon led when the fleet re-met and intermingled themselves together in a manner that indicated that it hadn't really made much difference which end one had started. Tom and Charlotte Stewart sailing a borrowed weapon snuck past and into the lead before the first major challenge of scooting back into the tide to get round the first buoy Q. It was a lead they held to the finish, through some light patches, against a strong ebb tide. This was despite a prolonged challenge from Tim Fells and Frances Gifford, who latterly snatched third from the jaws of second from Caroline Croft and Matt Lulham-Robinson who did the last part of the race better than their rivals.
Race one having been shortened up river at Brickdock, race two was started in the same vicinity with a windward leeward up towards Barbers Point, in the higher reaches of the Alde. Alan Krailing and Matt Read sailing an orange wooden boat, 3494, won the start but promptly hit some mud which held them back enough for Fells and Gifford to sneak through to lead at the first mark. Crafty Crofty and Matt looked briefly like they might pull off another heist but found no way through. The Stewarts held back the mighty Hot Totty in third, to give an overnight three way tie for the lead.
The promised sundowners on the terrace will have to wait for another year, the sun not having come up, but an evening of fish pie (with egg) and chicken curry ensued, followed by the now traditional trip to the very lovely White Hart.
Sunday dawned even browner, colder and a lot windier. 20-25 knots blowing against a 2 knot tide made life challenging for an intended three short windward-leewards in Home Reach. The river was rough, the U flag in operation and 17 boats (with two new entries), ventured out for whatever fate was to bestow them. The run proved challenging, and sadly the centreboard didn't prove a great vantage point from which to watch the racing unfold, but Ian and Ellie Sharps clearly sailed like legends to take the victory from Tim Saxton and Jodie Green. Various people demonstrated their three quarter eskimo rolls with mud hindering their full execution.
The second and ultimately final race of the day with the open meeting now wide open, saw a jib fall up as the start gun went, which was annoying and put paid to any hopes of Fells retaining his title. Some more legendary sailing from Saxton and Green saw them take the win and the open, with Dan Willett and Pete Nicholson completing a great day to add a second to an earlier third, and Colin Brockbank purging his Aldeburgh demons taking third with Russell Hall.
There were no major human injuries, a few minor boat injuries and it genuinely seemed like everyone had a great weekend, with lots of talk of coming back next time. Commodore, Patrick Hill travelled a one day 250 mile round trip to exercise his positional privilege of presenting the prizes, and indeed emphasised that we must return. The sun does shine on the east coast and the wind does blow from warmer directions. Thanks particularly to Wembley Sailing Club for choosing to come en-masse for their coastal break, we look forward to welcoming everyone back in 2020 assuming we once again get the coveted honour of hosting a Craftinsure Silver Tiller.
Posted: 01/05/2018 14:33:56