News
Jeff Worsdale will be remembered by many of our members as sociable chap and Merlin fan, he finished 4th & 5th in the 1975 & 1976 Champs those wishing to do so can virtually "attend" his funeral which will take place at 1200 (Noon) 30th December 2020 by using the link below.
Lyndy plans a celebration of Jeff's life as and when the restrictions are lifted - in the meantime she has asked you raise a glass during the webcast.
Service Chapel - Chapel - Yeovil
Website - https://www.obitus.com/
Posted: 28/12/2020 18:55:42
Merlin Rocket National Champs Update
Dear Members,
In these unprecedented times we are aware that you, our members, have bigger things to worry about than sailing. However, as the weeks pass, we are that sure that many of you are looking ahead to plans you have made for the summer and are wondering how it is going to pan out.
The MROA committee has been meeting remotely to determine the best course of action for the year, and we wanted to reassure our members that we are trying to plan and adapt in this constantly changing environment. We are taking advice from the RYA and being lead by government and Public Health England guidelines. The health and safety of our members is our number one priority.
For now, we plan to go ahead with the National Championships if, and ONLY if, government guidelines permit. Restrictions would need to be eased and 'lockdown' would need to be lifted to ensure an inclusive nationals. If these things happen, then we will go ahead with running the event in agreement with our host club, Tenby Sailing Club. We do not want to rush into a decision, but make the right decision at the right time based upon a constantly changing environment.
Please bear with us - we are trying our best for you and we will only run an event if it is appropriate to do so within government guidelines.
If you were, or still are, considering attending the 2020 Merlin Rocket Nationals, we would appreciate you filling in this 2 minute questionnaire to help us gauge interest and numbers.
https://forms.office.com/Pages/ResponsePage.aspx?id=DwvXh_xekUmgZeIFvD2zCMO76MMraWVCmGIHDisUdJ1UOVpQVExTNDFBSUg3NzgwTFFZNkE5WEdWNi4u
With many thanks
The MROA Committee.
17th April 2020.
Posted: 17/04/2020 15:23:04
MROA Statement on Covid 19 - Coronavirus
Whilst you are packing up your boats and sailing kit for the upcoming Silver Tiller & Regional circuit events please can you also pack your common sense when it comes to Covid-19.
Please follow WHO & Public Health England guidelines in the public domain and if you are self-isolating, please also self-isolate from all of the MROA organised events too.
It is the decision of the host clubs as to whether to cancel or not, and at present all events are going ahead as planned. This will be monitored and updates will appear on the forum should this situation change.
M.R.O.A. Committee
Posted: 13/03/2020 15:33:48
Merlin Rocket Class – March 2020

Merlin Rocket Rudder Fences – March 2020

In late November the RYA, as the Class Rules Authority for the Merlin Rocket Class, was asked by the Protest Committee of the Blithfield Barrel to clarify the meaning a number of Merlin Rocket Class Rules, in accordance with RRS 64.3(b). The requests related to the legality or otherwise of a feature on the rudder, commonly known as a "rudder fence", and the use of personal digital equipment.
The request was considered by the RYA's Technical Committee who provided the following reply to the Protest Committee:

Q1. The Merlin Rocket Class rules are silent on the 'fence' feature found on the rudder approximately 50mm below the bottom of the stock.
Please provide an interpretation of the class rules as to whether or not this fence feature should be described/defined as a 'winged rudder or other contrivance' and therefore not compliant with class rule C.8.2

A1. The RYA Technical Committee have determined the 'fence' feature to be non-class compliant under CR C8.2 and also in consultation with The Equipment Rules of Sailing (ERS) E1.1 and E1.2, and is therefore prohibited.

Q2. The GPS capable wrist watch although not used by the sailor, is capable of breaching class rule C 5.1(a) Please provide an interpretation as to whether being equipped with such a device infringes the class rule, or whether its use is required to infringe the class rule.

A2. It has been concluded that the GPS Watch is a breach of Class Rule 5.1(a). The rule does not mention that the device has to be used or not, just that it is prohibited.

Q3. The Tacktik compass device used in 'Tactical Mode' does appear to breach rule C5.1.(a) However the protest committee does not feel technically competent to absolutely determine with the evidence available whether this is the case. Please provide an interpretation/clarification on this issue.

A3. On the Tacktick compass question, the RYA Technical Committee feel there is insufficient information to provide a definitive interpretation, other than to say if the device is capable of performing the prohibited items (any device which correlates and/or stores any of the following: heading, time or vmg is prohibited) then it is prohibited to be carried regardless of whether it is used or not. It would be up to the Protest Committee to find further facts about the capabilities of the specific compass used.

Following this protest the RYA was made aware that the presence of a rudder fence was not a standalone case and that it affected a significant number of boats. The Merlin Rocket committee on behalf of the members has requested that the RYA look to allow a dispensation to these boats to allow them to race.

There is no mechanism under which a 'dispensation' can be issued to a specific boat or group of boats. All boats racing as Merlin Rockets are required to be in compliance with the class rules as published by the RYA. The options the RYA had were therefor limited to two:

1. Refuse the request of the MROA and insist any boats currently racing with a rudder fence remove the device;

2. Change the class rules to allow the use of rudder fences

As the Class Rules Authority, the RYA has the ability to amend the class rules. The class rules require the RYA to co-operate with the MROA in all matters concerning the class rules but do not require the approval of the MROA.
Normally the RYA would not consider a request to change a class rule unless it had the clear support of the class which would be demonstrated by an AGM vote in accordance with the MROA constitution. However, in this instance the ability to wait for an AGM decision would leave a significant number of boats with illegal rudders. . In the interest of not wanting to disrupt the Merlin Rockets planned events with reducing the number of entries the RYA has therefore issued a temporary set of class rules, based on wording proposed by the MROA, which will be valid until 31st December 2020. This will allow the MROA to vote on this class rule in July and if it is a positive response the RYA will implement the necessary changes. Should the ruling be that the class do not wish for these Fences to be on rudders then it will give a period of grace to sailors with these devices to take them off.
Whilst it would not be illegal for anyone to purchase or build a new rudder with a fence, anyone considering doing so should bear in mind that come the end of the year the MROA could decide at AGM to request the RYA to amend the rules for an outright ban.

RYA Technical Department – 12th March 2020

Suzie Holland, Technical pp RYA Technical committee

Posted: 12/03/2020 12:27:42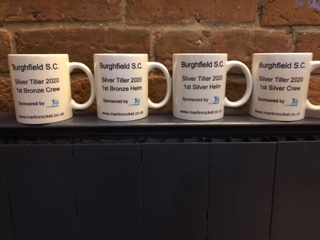 | | | |
| --- | --- | --- |
| Gold Fleet | Silver Fleet | Bronze Fleet |
| | | |
| Ballentine Peter | Cooper John (2 Planks) | Addison Mark |
| Barmes Mark | Alsop Dan | Anderson Kevin |
| Biggs Matt | Anderson Colin | Archer Ben |
| Birrel Christian | Barwell Mark | Ashworth Phil |
| Brewer Andy | Bell John | Barr Tim |
| Calvert Mike | Bines Andy | Bloice John |
| Craig Nick | Blake Pat | Bowen-Perkins Hywel |
| Croft Caroline | Brockbank Colin | Bramley Richard |
| Crook Stephen | Chadfield Tom | Broadbent Alan |
| Daivs Andy | Cooper John (Bola Bola) | Brooke Nigel |
| Dalby Andy | Cranford-Smith Graham | Brown Guy |
| Dodds Jenney | Deacon Jeremy | Burton Richard |
| Fells Tim | Dean Paul | Chen-Andronis Jenny |
| Gifford Fran | Elkington Mark | Clarke Brian |
| Gilbert Roger | Emery Phil | Clarke Godfrey |
| Gorringe Jon | Flynn Graham | Colles Mike |
| Goss James | George Chloe | Conroy Steve |
| Gould Chris | Gifford Anthony | Cooke Richard |
| Gray Pete | Harridge Lucy | Coulter Richard |
| Greenfield Matt | Harridge Tim | Croft Dave |
| Hayes Dave | Hollis Paul | Dee Richard |
| Hayman Alex | Hunter Martin | Donaghue John |
| Henderson Arthur | Jackson Ross | Dunoyer Pierre |
| Henderson Rob | Jones Ben | Eaves Ben |
| Henderson Will | Lambert Piers | Evans Simon |
| Holden Jack | Lee Dave | Fagg Mark |
| Jackson Alex | Lofts Anthony | Fildes John |
| Jaques Tristian | Male Tim | Game Vyv |
| Jennings Chris | Markham Alan | Goodfellow James |
| Kenaugh Rob | Postle Andy | Green John |
| Leney Steve | Rainey Will | Griffiths Gareth |
| Lenze David | Reddington Mark | Grosscurth Chris |
| Lytton Smion | Salmon Duncan | Harling Steve |
| Mackley Sophie | Scroggie Nick | Harms Julian |
| Martin Chris | Simmons Nick | hatley Ron |
| Massey Judith | Smart Laurie | Hereiter Mark |
| McGrane Ben | Thompson Sam | Hill Christian |
| Meadowcroft John | Tyler Steve | Holland Jan |
| Parry Julian | Wakefield Nigel | Hollands Jon |
| Parsons Tim | Waren Alan | Horwood Jemma |
| Pascoe Sam | Waterhouse mark | Hyams Malcom |
| Phillips Roger | Wells James | Jenkins Stuart |
| Potts Simon | Wright Antonia | Johnson Tony |
| Rayson Paul | Wright Geoff | Kelly Paul |
| Saxton Tim | | Kimber Geoff |
| Sharps Ian | | Knapp Rick |
| Stockbridge Mark | | Krailing Alan |
| Turner Jon | | Lang Ian |
| Turner Olly | | Lulham Ben |
| Wade Dave | | Luscombe Chris |
| Warren Alex | | Maclean Dicken |
| Warren William | | Male Peter |
| Whitworth Richard | | Mali-Marnet Hannah |
| Willet Dan | | Martin Rob |
| Winder Dave | | Mason Kieron |
| Yeoman George | | Mclaughlin Joe |
| | | Medcalf Tim |
| | | Miles James |
| | | Mouscadert Guillaume |
| | | O'Connell Brendan |
| | | O'Farrell Kieron |
| | | Proctor David |
| | | Rathbone Chris |
| | | Reynolds Huw |
| | | Richards Sarah |
| | | Rose Kevin |
| | | Rouse Martin |
| | | Scammel Simon |
| | | Shah Sel |
| | | Shaw Joe |
| | | Slack Peter |
| | | Smith Martin |
| | | Smith Matt |
| | | Smith Rupert |
| | | Smyth Mark |
| | | Squire Andrew |
| | | Squire Tristram |
| | | Stein Jeremy |
| | | Steward Jon |
| | | Stolper Thomas |
| | | Tosh Joe |
| | | Turner Nick |
| | | Whitehill Carl |
Posted: 06/03/2020 00:16:57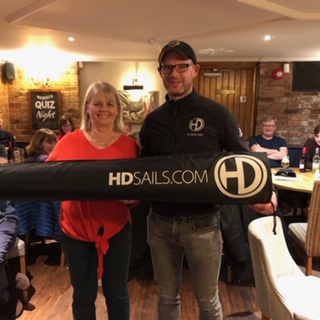 Thanks to all who attended this evenings Midland Circuit social and prize giving! Drinking a toast to absent friends (Richard Dee) taking the mickey out of last years antics (Mark Reddington & Matt Biggs) celebrating Matt & Becka's win with Steve & Gill second and Chris Martin third big thanks to Colin Anderson, Matt Biggs, Chris M, Dirty Hands and Martin Smith for sponsoring prizes plus of course a massive shout out to Head Line sponsors Taxi & Jim of HD Sails. See you on the circuit!
Posted: 04/03/2020 14:06:08
New Class Rules Issued
The RYA have issued new Merlin Rocket rules valid until 31/12/2020 The RYA will issue a briefing note by Wednesday 4th March 2020 to explain the reason for the amendment to rule C.8 The current Winder Fenced rudder complies with rule C.8 these rudders can be used in any race until 31/12/2020 as can any other rudder that is compliant with the rule. The class membership can vote to accept rule C.8 at the next AGM in July or they can vote not to accept rule C.8. If the first option is adopted rule C.8 as published on 28/02/2020 will remain beyond 31/12/2020 If the second option is adopted rule C.8 will revert to the version published on 07/11/2019 at 0001hrs 01/01/2021.

Posted: 29/02/2020 08:45:15

Champs website and Entry NOW OPEN

Aspire 75th Champs - Tenby

More details on champs site and Forum (Aspire 75th Champs thread)

Posted: 02/01/2020 20:08:03
NEW RULE INTERPRETATION-JIB HEAD STIFFENING AND SUPPORT
The Committee has received a number of enquiries from sailmakers and owners as to whether jib head arrangements incorporating a removable solid bar in a pocket and twin suspension points are Class Rules compliant. The matter has accordingly been referred to the RYA Technical committee for its interpretation. The response was negative and may be viewed in full via the Class Rules link which is found on the Class website under the "About" drop down menu. It should be noted that RRS does not provide for protest action in respect of any failure to comply with this interpretation prior to 22nd November 2019, the date of publication by the RYA.
Posted: 25/11/2019 07:40:48
The 2019 HD Sails Midland Circuit results up to and including Blithfield are displayed in the results section, 40 teams have sailed one or more events and up to 19 teams could qualify I have shown all the teams that need just one more event to make this happen.
Don't forget we still hope to have the event at Trent Valley in early November POSSIBLY 3 races back to back with a 1030 start.
Posted: 23/10/2019 15:53:01