For Sale : Boat
Number: 3565
Price:
£3995
Added: 14/10/2020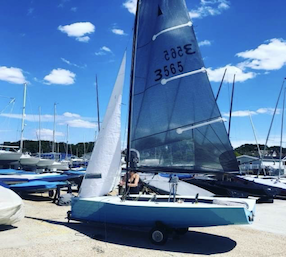 Design
: Canterbury Tales Mk1
Boat Name
: Scallywag
Builder
: Winder
Location
: Fordingbridge
Description
Winder built Canterbury Tales Mk 1.
Up for sale due to permission from Minister of finance to upgrade boat.

Chipstow rig.
One string up.
All running rigging replaced in 2018/ 2019.
Hull was sanded back and repaired and re painted in 2018. Dinghytech.
All control lines lead to both sides.
Centre board control system.
New twin pole self launch system. 2019.
2 x main in good condition.
1 x jib in good condition.
2 x kite in good condition.
Combi trailer
Under cover
Over cover
Mast bag
Winder carbon fixed rudder
Winder carbon lifting rudder

Possible chance of brand new un used of HD's by separate negotiation.
Andrew Gardiner
07493608704