The Merlin Rocket National Championships, with nearly eighty boats, was kindly hosted by Pwllheli Sailing club, promising plenty of breeze, big waves and a great party.

The week kicked off on Sunday with starting practice in variable winds and there was some difficulty setting a line in a north westerly force 3. After two general recalls for the practice race the runners and riders were Roger Gilbert and James Stewart, John Bell and Graham Williamson, Tom Stewart and Chris "Deepthroat" Downham, General Dalby and Jezza Williamson, followed by last years Chumpions William "Wobbly" Warren and Chris "Porky" Robinson.

Following the practice race the wind was veering westerly and it was proving difficult to set a true line and course, so the Merlin Sailors were left to entertain themselves in the Welsh Ocean for an hour. After one general recall the race officer made use of the black flag which had eighteen victims, with the surprising exception of Team Moist. The final positions were Roger Gilbert and James Stewart followed by Glen Truswell and Paul Davies, Tom Stewart and Chris Downham, Andy "Taxi" Davies and Rory Bremer, and Graham and Ben Scroggie. The following evening's entertainment involved Matt Mee's birthday where, following his choking experience at the Fireball nationals in the previous week, he repeated the feat on his birthday pint, much to his mother's disappointment! Unlike the previous evening, everyone made it home independently and the assistance of barmaids were not required.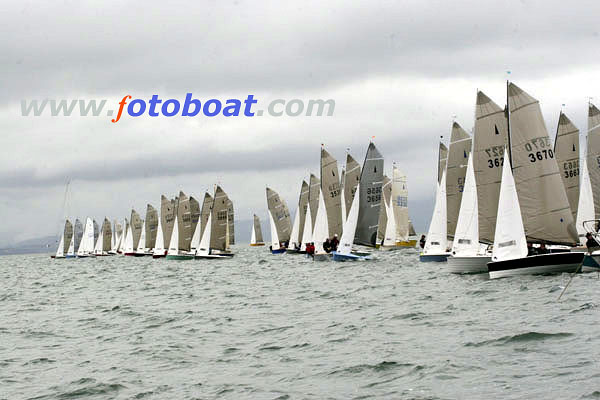 Monday dawned with more breeze and a significantly shorter walk to the sea. The fleet was eager to get going for the main feature of the day, namely the crew's race. Once on the race course the race committee demonstrated yet again that it is not size that counts, it is what you do with your anchor that matters. Following several customary recalls and the usual "lunch break" the fleet was started under a black flag. In a solid force 4, the one mile beat was bound to sort the men from the boys, and the downwind legs the sinkers from the floaters. Some notable victims were Judith Massey and Phil Dalby and Simon Blake and Jonny Toogood. We also must not forget the attempted decapitation of Mr Bosnia by Mrs Bosnia (by means of a spinnaker pole).

Everyone was so keen to get ready for the inaugural fancy dress "disco" and the free beer that the helms voted with their rudders and the main feature of the day was sadly postponed indefinitely. With the prospect of gales ahead, the fleet retired to the bar and some spaghetti bolognase courtesy of Captain Ross.

Following the flirtation with food poisoning the fleet assembled in the bar to show off their hastily assembled boat name fancy dress costumes. Other attractions of the evening included Mr Mojo's Wall of Sound disco, the controversial north vs south drinking competition (won by the northerners, but the result is subject to protest), the celebrated 'pull a champion' competition plus break-dancing extraordinaire.

Tuesday morning was not an enticing start to the day, foggy and damp. Initially this was thought to be as a result of the previous night's entertainment but it was actually the finest of Welsh weather. With the forecasted gales looming large on the race officer's mind, the fleet was under the control of the black flag from the off, and following a couple of aborted starts owing to shifts, there was a clean getaway. The breeze was light and shifty, highly suitable for the fleet's river sailors including Mike Stephens and Andy 'party accessories' Douglas who rounded the windward mark first.

There was much place changing on the subsequent legs and a final 50 degree windshift played into the hands of Richard Whitworth who finished first, followed by Dave Winder, Mike Stephens, Stuart Bithell and Roger Gilbert. Following the previous night's shenanigans the fleet opted for a quiet night at home in a desperate attempt to avoid the bar.

Unfortunately, however, the people invited to dinner at 10 Westend Parade were not aware of this plan. Consequently the inevitable happened and via copious quantities of lager beer, cheap rose and G&Ts the 2006 National Champion, Mr William Warren, was well and truly stitched up by team Jackson Jnr.

Wednesday was wet, windy and cold. The race was sailed in a force 4 to 5 with oscillating wind shifts. Gilbert and Stewart led round the windward mark having escaped Liam Dempsey's ill advised port tack approach which claimed several victims, a skill which he has clearly learned from the legend that is Alan Warren. The final positions were Gilbert followed by Taxi, Willie Warren, Dave Winder and Tom Stewart. Following the race there was a trip to another of the classes favourite haunts, Abersoch, for some retail therapy whilst the cool kids went to Hells Mouth for a spot of surfing and sand eating. After this the fleet retired to the bar for some impromptu bar games including table climbing and "climb the broomstick".

A sunny force 4 greeted the now weary fleet on Thursday morning. Richard Whitworth got to the windward mark first followed by Roger Gilbert and Tom Stewart. There was some place changing down the reaches which resulted in a win for Stewart and Downham from Whitworth, Bithell and Gilbert. This confirmed Roger Gilbert and James Stewart as 2007 Merlin Rocket National Champions with a race to spare at the first time of asking. Thursday night heralded the annual 'crews union', with the added celebrations of exam success for some. This was followed by the prize giving for the Ranelagh Trophy, champagne being awarded to the first 21 boats, thus providing fuel for further shenanigans.

The final race was sailed in a force 3 to 4, however the tide got the better of the fleet on the start line which was further compounded by a 20 degree windshift 30 seconds before the gun. With Roger Gilbert choosing to stay ashore, Stewart/Downham, Truswell/Davies and Barnes/Nicholson made the most of the start and this trio continued around the race track unchallenged.

Although new to the fleet Roger and James have put in a huge amount of time and practice, this justly rewarded them with the Championship title. This team has without a doubt raised the bar and judging by the boat park banter the fleet is eager to rise to the challenge. Combined with the crack team of Dalby and Downham organising the much anticipated Looe Champs for next year and the momentum the class is currently experiencing we shall be targeting a bumper turnout.


Report: Alex Jackson and friends
Photos: Elaine Marsh, Fotoboat


See also:
Results - Main Championships
Gear Guide - sails/hull/spars used by the top 10 (on Y&Y website)
Photos from Fotoboat (on Y&Y website)


Special Trophies
Minima Trophy					3684 Andy Davies & Ellie Bremner
Abererch Trophy					3652 John Bell & Graham Williamson
Draycote Water Spring Series Trophy		3661 Graham Scroggie & Ben Scroggie
Anniversary Trophy				3678 Stuart Bithell & Edd Clayson
Centennial Trophy				3652 John Bell & Graham Williamson
King Cup					3684 Andy Davies & Ellie Bremner
Neil Henderson Cup				3681 Dave Dobrijevic & Rachel Dobrijevic
Ball & Chain Trophy				3663 Chris Haworth & Jo Harvey
Heavyweights Prize				3625 Richard Bramley & Sue Saunders
Old Boats Prize (Boats over 10 years old)	3539 Dan Alsop & Frances Gifford
Bognor Barrel (Boats older than 20 years)	3379 Steve Watson & Simon Beck