For Sale : Boat
Number: 3103
Price:
£250
Added: 22/07/2019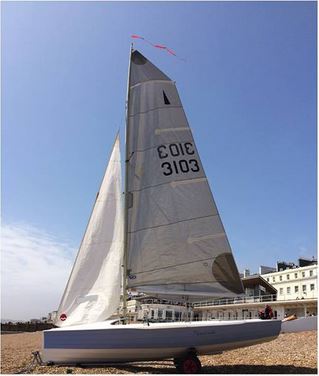 Design
: Smokers Satisfaction
Boat Name
: Pipestrelle
Builder
: Rowsell Bros.
Location
: Hastings & St Leonards Sailing Club, East Sussex
Description
Price reduced from £450 for quick sale 

Sail number 3103.

Aluminium rig, main sail, jib and spinnaker. Fit out includes lifting rudder, toe straps, control lines, blocks, buoyancy bags etc.. Road trailer (with flat tyre), launching trolley and top cover. Needs some attention, tear in main sail (still usable) and some small cracks on top hull due to sitting on the gunnels when hiking out – common issue with Rockets of this age. Kept in dry storage.

Competitive package for club sailing as well as jolly's out to sea. Stunning and beautiful to sail but sadly lack of time forces sale.
Robert Dyer
07970 245577