News
Selden Boom Auction - Winner
Aspire
Merlin Rocket Nationals 2017
And The Winner of the
Selden
Boom 2017
Is
Dan Willett
Posted: 01/08/2017 15:48:06
Amendment 1 to the NoR and draft Sailing Instructions are now available for viewing via the Champs website, News page.
Check out this link
http://merlinrocketchamps.com/news/
Posted: 14/07/2017 14:26:01
Selden Boom - Auction Opens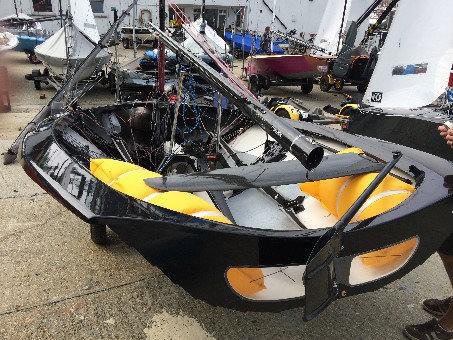 We are delighted to announce that Selden have offered us a brand new, Merlin boom for auction.
The boom will be rigged to accept pole launchers.
The auction is open.
Get a new boom at a bargain price. Send your email bids to seldenboom17@gmail.com .
Posted: 12/06/2017 17:23:47
Results & Report now in results section
21 boats enjoyed the Starcross Silver Tiller with Chris's Gould and Kilsby claiming the win.

Posted: 30/05/2017 11:33:20



Posted: 24/05/2017 04:44:19
2017 HD Sails Midland Circuit
Latest HD Sails Midland circuit results are now in the results section.
Caroline Croft is currently leading the HD Sails Midland Circuit after four events, if we applied a discard now then the top three teams would all have eight points!
It really is very tight and I look forward to seeing how this series unfolds over the coming events.
Any errors please do let me know!
Posted: 17/05/2017 13:33:30
Aspire Nationals Budget Accommodation - Under £65
See Aspire Nationals post on Forum for more detail

Posted: 16/05/2017 09:56:15



Posted: 05/05/2017 11:37:13
Pwllheli ST - Details and NoR
Details for the Pwllheli Silver Tiller 2-day sea event and link to the NoR now on the Forum.
Posted: 04/05/2017 18:19:58


Posted: 15/04/2017 08:31:17